Vacations are fun. We save for them, look forward to them. Vacations inspire us, and in them we open up and dream a little. More and more, however, people are searching for more interesting, more meaningful vacations. People are searching for something to expand their views, to inspire and challenge. At Sedona Vortex Tours, we specialize in creating unique adventures for singles, groups, or families.
Expand Your Horizons
You could come to Sedona and find your way around. But the national forest here is vast and the best areas are kept secret by locals. Instead of further rutting the beaten path and wandering around red rock country, imagine meeting an expert guide at our retreat center run by our sister company SpiritQuest Sedona Retreats. From here, the guide will take you to sacred and isolated areas and perform a ceremony that helps you connect to the land in deeper, more interesting way.
Imagine doing yoga under a pristine blue sky on red rock platforms, among piñon pine and agave. Imagine meditating to drums as redtail hawks soar and the nurturing sun renews your energy. Imaging learning about the unique geology and creatures of Sedona while in an exclusive, private location. Instead of indulging your typical patterns, imagine making a deep local connection to a guide and the land, while learning something new and exciting about yourself, expanding your relationships, or deepening your ability to meditate. Imagine ending the perfect day with a massage or one-on-one session at our beautiful and relaxing center.
The Possibilities are Endless
We offer dozens of classes, which we call sessions, to fit your interests, budget, and time. We offer out-of-the box tours, or a fully custom day-trip (or multi-day itinerary). With over ten years of experience, we are confident we can offer you something you won't forget. Call today, then get out on the land and experience a Sedona customized to your interests. Sedona Vortex Tours is one of the few tour companies with an exclusive National Forest Service permit to take you out on the land. Step out of the typical, and do something brave and unique.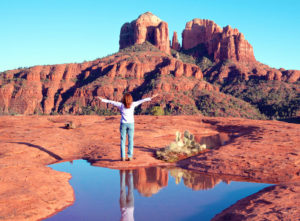 Make your vacation something you'll never forget. Who knows, maybe it will change your life. Read the testimonials from our customers to see what's possible, and how profoundly people have been touched and changed from a Sedona Vortex Tour. Also check out our sister company SpiritQuest Retreats. See you soon!
Check out our Day Packages to get started.