This is a great trail for those who are serious about hiking. The lower level hike is about 30-50 minutes long and ventures into a side canyon wash for ceremony, or continue to climb another 30 minutes for a spectacular view. This location is best for those who want to make a day out of hiking and exercise, as well as ceremony if you wish.
Beautiful junipers, piñons, and manzanitas grace the meandering trail. Despite it's relaxed orientation, you will still be blessed with views of Sedona, Jerome and Mingus mountain. The Jim Thompson trail's highest point is 4,700 feet and is part of the old road built by Jim Thompson to link his home in Oak Creek Canyon to Sedona. The Jim Thompson Trail has two type of rock formations that can be viewed while hiking. The first is known as Schnebly Hill formation, which consists of red rock. This type of rock was formed when ancient rivers deposited iron oxide from the mountains of Arizona. The second formation is a white layer known as the Coconino formation that was created from the sands in the area comes from wind-blown sand that created dunes similar to those found in the Sahara Desert.
(These are a few suggested options, see our session list for our full offerings. Nearly any class or treatment can be added to our tours)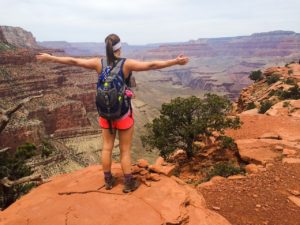 Sacred Connection to Spirit in Nature
Take off with your own spiritual guide into the Sacred Vortexes of Jim Thompson Canyon in Sedona on and discover the quiet place inside yourself. Let your connection with yourself and nature allow for a huge release. Be led by your spiritual guides to find clarity and peace of mind. Learn to let go and to be in the present moment. This will be a day unlike any other you have ever experienced.
Creating Sacred Space Through Yoga & Meditation
This Creating Sacred Space Through Yoga and Meditation Sedona Vortex Adventures session allows you to unite your mind, body, and spirit. Yogis view that the mind and the body are one, and that if it is given the right tools and taken to the right environment, it can find harmony and heal itself.  Consciously connect your breathing and movement to clear limiting beliefs, which inhibit the free flow of pleasure, ease, and grace in the body. . You will find your body more flexible and relaxed even in the midst of a high stress environment. Yoga on the red rocks can be a powerful experience.
Red Rock Shamanic Drumming Ceremony
Become one with your ancestral memories and awaken your spirit within through a sacred drumming ceremony. This Shamanic Sedona Vortex Adventures session takes place out in the Red Rocks of Sedona where you will feel grounded and connected to the Earth!  Listen to the powerful vibration of the drum as it replicates the heartbeat of Mother Earth, and carries your prayer into the Spirit world.This will be a day unlike any other you have ever experienced.
Jim Thompson Trail was the very first settler in Oak Creek in 1876 where at that time he built the trail to travel back and forth between his two properties in 1887. The trail is located close to uptown in Sedona and Jim Thompson Trail takes you from Jordan Road Trail-head east onto the southern slopes of Wilson Mountain and a formation known as Steamboat Rock.
*We conduct activities on Public Land under permit with the Coconino National Forest.