Damfino Slickrock Vortex Tour
At the entrance to Schenbly Hill road, this "secret" trail is rarely visited but provides spectacular views! It's a 20-30 minute walk and what awaits you is more than worth it. Take your camera for this location. Often various hawks and ravens fly by. At sunset, the rocks light up like fire! You'll understand why people call Schnebly Hill a vortex site. Gain your privacy here and feel the intimacy of this special location.
The Damfino Trail is one of Sedona's best kept secrets!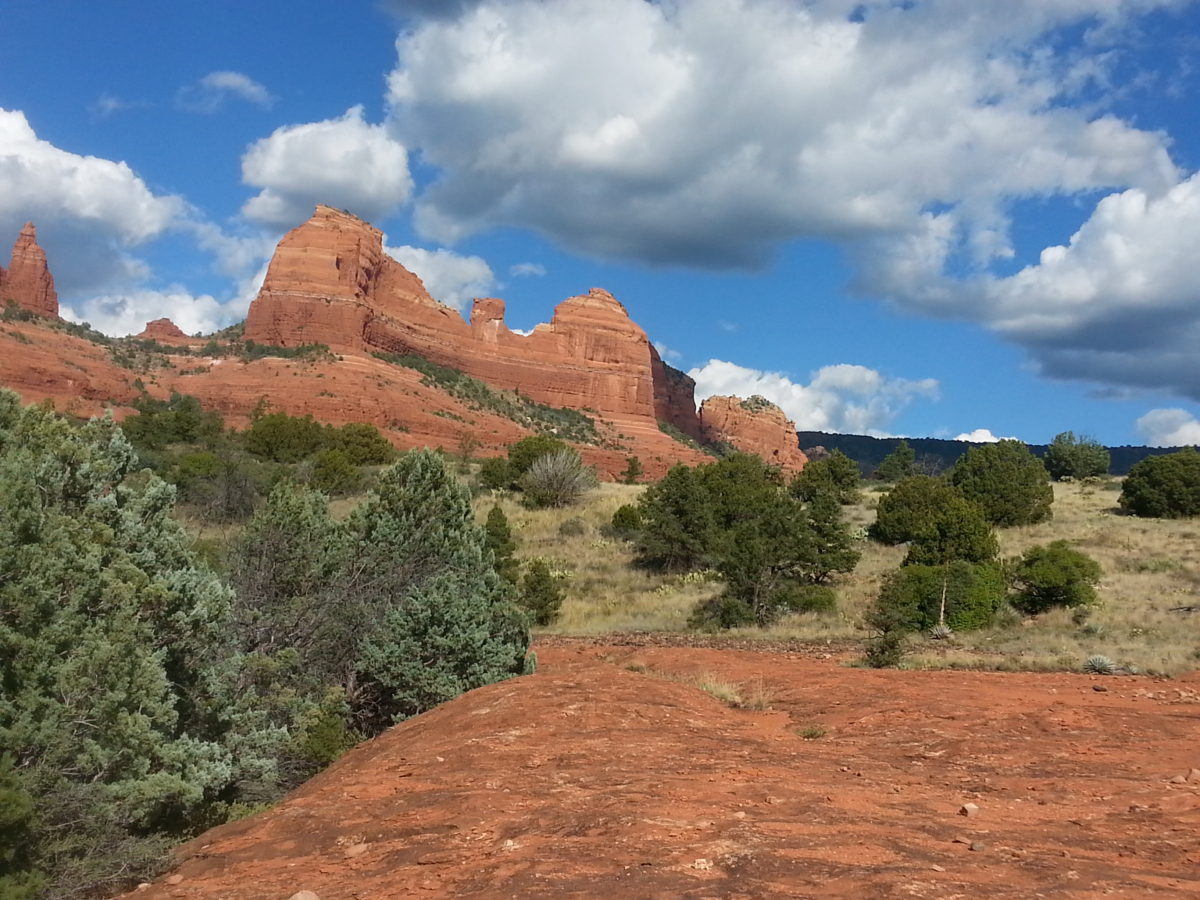 (These are a few suggested options, see our session list for our full offerings. Nearly any class or treatment can be added to our tours)
Sedona Vortex Adventures Session: Yoga & Meditation
Stillness through movement is a process where one learns to align with their true nature and consciousness. During this powerful Yoga and Meditation Session, you will be guided to connect with your breath. Movement techniques clear limiting belief systems. These beliefs inhibit the free flow of joy, ease, and grace in the body. Through Breath and Mind Awareness you will be able to let go deep allowing yourself to receive the benefits of bringing your soul back to its natural state of peace and equanimity.  Awaken and activate every cell in the body, leaving you more alive than ever before!
Sedona Vortex Adventures Session: Vortex Crystal Energy Healing
Ancient civilizations have utilized the power of crystals for releasing mental, physical and spiritual blockages, thus easing the free flow of energy in the body. When crystals are placed directly on your body, they have a powerful vibratory effect that surges from the crystal to you.  Experience this amazing Vortex Energy Crystal Healing Session as you select from a plethora of crystals with your guide. Then create a personal power grid around you in the Sacred Red Rocks. The crystals create an energy grid surrounding you with healing energy.  This crystal energy grid assists you as a powerful tool to help the thoughts of your consciousness. While hiking in the Casner Canyon vortex, discover how to use the natural energies of the earth for personal healing and transformation. Then, your guide will work with balancing your chakra system. Experience a holistic system of energetic healing that brings forth divine light and consciousness to heal emotional patterns.
Sedona Retreat Session: Sacred Vortex Drumming Ceremony
The drum is broadly considered to be the first musical instrument used by humans and utilized by virtually every culture known to mankind for a multitude of purposes. In ancient times, many drumming ceremonies were utilized to help tribe members find sacred trance states necessary for healing.  Meditate as your  Spiritual Guide provides a channel for spiritual energy and a sacred connection to Self through the drum.  This unique drumming ceremony is designed to celebrate, honor or acknowledge what is. Experience a once in a lifetime ceremony on the red rocks! This will be a day unlike any other you have ever experienced.
Damfino Slickrock Trail History
Sedona's many red rocks have been given their names by their formations that resemble items such as a teapot, snoopy, steamboat, etc.  However, there is a unique process in how Damfino Slickrock Canyon received its name.  Back in the 1930s, the Civilian Conservation Corps was mapping out the area when an engineer asked one of the workers the name of a treacherous canyon so he could identify it on the map. The canyon at that time had never been named so the partner replied, "Damned if I know."  The engineer thought his partner said "Damfino," so that's what he wrote down. And the canyon still bears that name.
*We conduct activities on Public Land under permit with the Coconino National Forest.