Deadman's Pass Vortex Tour
Around the corner from Kachina Woman vortex site at Boynton Canyon, you will find a private spot called Dead Man's Pass. Ceremony will take place on your way up a small cove in the dry river bed. Two sacred trees guard the entrance. Continue if you want down the trail into a special wilderness area. Backtrack to Boynton and hike on your own if you would like to explore this Canyon. SpiritQuest will teach you the Hopi legend of Kachina woman and take you away from the tourists into a special side canyon where you can have private conversation and meditation.
Deadman's Trail climbs gradually to the base of Mescal Mountain. This area has beautiful formations of Boynton Canyon walls and buttes are off to the left. Deadman's Pass shares a trail-head area with Boynton Canyon and Boynton Canyon Vista trails. Deadman's Pass Trail has been known throughout history as a special spiritual vortex for meditating.
(These are a few suggested options, see our session list for our full offerings. Nearly any class or treatment can be added to our tours)
Sedona Vortex Adventures Session: Replenishing Self Through Vinyasa Flow Yoga
Join Sedona Vortex Adventures for an amazing session of Replenishing Self Through Vinyasa Flow Yoga in Deadman's Pass.  Experience the flow of Vinyasa Yoga as each of your movements are synchronized to your breath. The breath is given precedence and acts as an anchor as you move from one pose to the next.  Each movement in the series is cued by an inhalation or an exhalation of the breath. Your guide will lead you through a variety of movements and breath that will provide a range of health benefits to you, as it encompasses all areas of mind, body and spirit.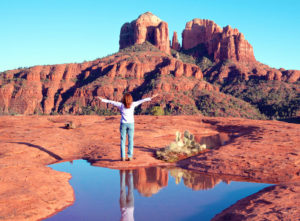 Sedona Vortex Adventures Session: Re-connecting Your Awareness With Nature
Let your Sedona Vortex Adventures guide bring you back to your connection with all things with this Sedona Retreat Session: Re-connection Your Awareness With Nature. You will be taken to Deadman's Pass located in the high vibrational vortex in Boynton Canyon.  Immersion in the natural world of all nature has to offer and begin to feel enhancing peace, joy, zest, the ability to meet life's challenges with a positive attitude. Your re-connection to nature will often lead to changes in the internal awareness to make healthy choices of life-style and attitudes toward yourself, your families and your communities.
Sedona Retreat Session: Sacred Vortex Drumming Ceremony
The drum is broadly considered to be the first musical instrument used by humans and utilized by virtually every culture known to mankind for a multitude of purposes. In ancient times, many drumming ceremonies were utilized to help tribe members find sacred trance state necessary for healing.  Meditate as your Sedona Vortex Adventures Spiritual Guide provides a channel for spiritual energy, and a sacred connection to Self through the drum.  This unique drumming ceremony is designed to celebrate, honor or acknowledge what is. Experience a once in a life time ceremony on the red rocks!
*We conduct activities on Public Land under permit with the Coconino National Forest.