Secret Slickrock Vortex Tour
A favorited spot, views here of Cathedral Rock are spectacular. Look down into the Crescent Moon park filled with Sycamore Trees. This is a short walk of 6-10 minutes to be atop an outcropping of red rock. Short but sweet this location provides privacy for ceremony or meditation. While on the  Secret Slickrock Vortex trail you will cross sandstone ledges with the spires of Cathedral Rock rising above.  The trail winds through scattered forest before it drops a bit steeper and you arrive on a big plate of Slickrock above Red Rock Crossing. Covered by a dense grove of cottonwoods, willows and sycamores, and hiking along Oak Creek gives you a peaceful time to reconnect to nature.
(These are a few suggested options, see our session list for our full offerings. Nearly any class or treatment can be added to our tours)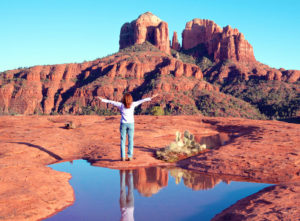 Sedona Vortex Adventures Session: Hatha Yoga In the Red Rock Vortex
Hatha Yoga is widely practiced for mental and physical health to move into deeper dimensions of meditation, is that it allows for a higher possibility of energy and is considered to be a preparatory stage of physical purification that renders the body fit for the practice of higher meditation. In this Yoga session you will learn the postures of Hatha Yoga work with the energy channels of the subtle body that must be fully operational to attain a state of enlightenment.  Experience the wonder of Hatha Yoga with the beauty of the Cathedral Rock.
Sedona Vortex Adventures Session: Reconnecting to Self Through Cord Cutting
This Shamanic Sedona Retreat Session of Cord Cutting requires that you open your heart and forgive. When you forgive, you become free.  Often those cords become painful and create negative energy. This shamanic retreat session gently severs those cords, sending the person's energy back to them and taking yours back into yourself. Through the power of letting go and forgiving you can go on with your life feeling whole and complete.  Experience this profound session of releasing while a high-energy frequency of the vortex of Cathedral Rock surges through you!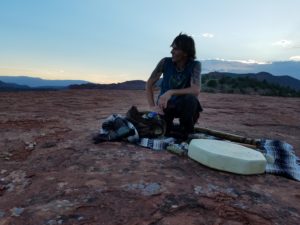 Sedona Retreat Session: Sacred Vortex Drumming Ceremony
The drum is broadly considered to be the first musical instrument used by humans and utilized by virtually every culture known to mankind for a multitude of purposes. In ancient times, many drumming ceremonies were utilized to help tribe members find sacred trance state necessary for healing.  Meditate as your Sedona Vortex Adventures Spiritual Guide provides a channel for spiritual energy, and a sacred connection to Self through the drum.  This unique drumming ceremony is designed to celebrate, honor or acknowledge what is. Experience a once in a life time ceremony on the red rocks!
*We conduct activities on Public Land under permit with the Coconino National Forest.