Casner Canyon Vortex Tour
Casner Canyon's imposing beauty can be admired from Sedona all the way to the Verde Valley and  even Mingus Mountain.  The trail meanders past Oak Creek and Casner Creek before ascending into open grasslands. The trail explores the floor of Casner Canyon before veering up the north slope. You will then climb to canyon rim and the Schnebly Hill Road overlook. The path follows several cliffs, streams, and residual pools. You will witness spectacular hillsides filled with wild flowers.
Cradle yourself in a fabulous three trunk Sycamore Tree, or take a dip in the Creek. This is a 10 minute walk to the creek. If you are adventurous, you can cross over the creek and meet the Casner trail which is off the beaten tourist path. This is very private and allows you to hike up a trail where the view begins to unfold. This journey is very lush and is a canyon experience.
(These are a few suggested options, see our session list for our full offerings. Nearly any class or treatment can be added to our tours)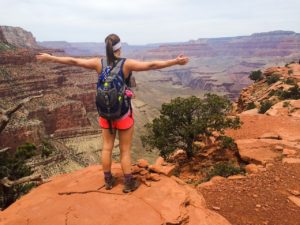 Sedona Vortex Adventures Session: Re-discovery of Self Love & Peace
Rediscover your strengths and get in touch with your core. Have you become so busy that you don't even realize where and how you lost touch with your heart and soul? Do you feel you have lost the purpose of life? Do you crave integral wholeness expressed in nature's ways? In this Sedona Vortex Adventure: Re-discovery of Self Love & Peace, you will discover how to move through your current lifestyle into the process of engaging and reclaiming your own inner knowing. Through a creative session of Self Love & Peace, rejuvenate the joy of commitment and self-discovery.
Sedona Vortex Adventures Session: Vortex Energy Healing
Join a Sedona Vortex Adventures for an Exclusive Vortex Energy Healing Session with our expert guides. While hiking in the Casner Canyon vortex, discover how to use the natural energies of the earth for personal healing and transformation. Then, your guide will work with balancing of your chakra system and the physical, emotional, mental, and spiritual body. Experience a holistic system of energetic healing that brings forth divine light and consciousness to heal the body, transform emotional patterns, and awaken us to True Self. This session will be one that you will remember for a lifetime!
Sedona Retreat Session: Land Tour
Sedona is nestled within an incredibly beautiful field of energy vortexes. The sacred red rock display shadows and colors that awe the mind, body and spirit of those who experience the spectacular scenery. Sedona Vortex Adventures Land Tour guides will educate you with their knowledge of the area, Sedona, and the vortex energies.  This is where adventure, education and solitude blend within your heart.
This will be a day unlike any other you have ever experienced.
Native tribes, including the Sinagua, Anasazi, and Mogollon, populated the Casner Canyon area before settlers arrived from the eastern United States. They were nomadic hunters, who over time began to settle in pueblo-style communities, building dwellings into cliff and canyon walls.  The Casner Canyon Vortex trail was established by the Casner family in the 1880's to move their cattle from the Verde Valley to higher elevations in the summer. In 1875, traveling by covered wagon, Riley Casner and his wife Rebecca arrived in Jerome, Arizona where they started the first orchard in the Verde Valley. Today, the trail requires a USFS Special Use Permit. This access is granted for one trip a week during the months when the area is not frozen or snowy.
*We conduct activities on Public Land under permit with the Coconino National Forest.